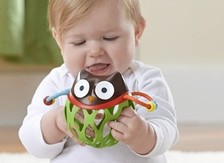 The best toys for a baby from 6 months to 1 year
In the age of 6 months to one year babies slowly discover the world. They go as quickly lie, rollers, to sitting, crawling and sometimes even standing and walking. At this stage, what toy stimulates the senses fun and educational for them.
Baby toys 6 to 9 months
Activities hugs, night lamps with light and sound and books, mirrors, toy, mirrors, playing dress up, strong booklets.

Toys baby from 9 months
Discover ... toys where you can get things out and may stop, slippers for when your little one starts with standing / walking, its own cutlery set, a doll carriage or bump engine.