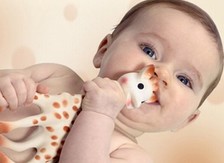 Toys for babies
Gifts are fun to give to Santa Claus, Christmas, a birthday or just because. But what gift are best suited to the age of your baby or child? Below you will find toys for babies from birth to about 6 months.
Baby toys
is always hugely popular. Choose toys that are appropriate to the stage where your child is now. Watch what your baby already can and pass it on to your toys. Does it not too fast difficult to avoid frustration when your baby.
Tip! Baby play mat for babies from birth
A must have for babies from birth to one year
is
a baby
play mat.
This they can later lying and sitting explore the world slowly.
Really toys have namely not really need yet during this period. But these tips are also fun to give or do. Music or eg. A mobile working soothing. Wear a hug for a while with you so that your familiar smell is coming. During this period, safety and security, namely the most important.

Toys Tips for babies from 0-6 months:
Boxspiegels, muziekmobiels, play cloths, rattles, teething keys, teething rings, teething necklace, night lights with or without music or a loving cuddle / teat tissue and of course everything squeaks, creaks and is very soft. If you order one of these gifts online in our shop then the gift is still wrapped again free festive!