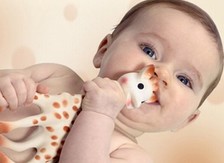 Toys for babies
Gifts are fun to give at Sinterklaas, Christmas, a birthday or just like that. But which gift fits best with the age of your baby or child? Below you will find toys for babies from birth to about 6 months.
Baby toys
are always very popular. Choose toys that fit the phase your child is in now. Take a good look at what your baby can do and adjust your toys accordingly. Does not make it too difficult to avoid frustration with your baby.
Tip! Baby play mat for babies from birth
A must-have for babies from birth to about one year is a
baby play mat
. They can slowly explore the world lying down and later seated.
You do not really need real toys during this period. But the tips below are also fun to give or do. Music or eg a mobile work soothing. Carry a hug for a while with you so that your familiar scent is present. In this period, safety and security are the most important.

Toys tips for babies from 0 - 6 months:
Box mirrors, music mobiles, play rugs, rattles, bite keys, teethers, bijtketting, night lights with or without music or a sweet cuddly cloth / pacifier cloth and of course everything that squeaks, creaks and is wonderfully soft. If you order one of these gifts online in our shop, the gift will also be packaged for free!