Oeko-tex label, what is it?
You regularly find it on baby and children's clothing. The Oeko-Tex label. But what is it anyway? In summary, Standard 100 from oeko-tex® is a worldwide certification system for textile products, especially when it comes into contact with the skin, taking into account the most important regulations for harmful substances.
Checks for OEKO-TEX® harmful substances focus primarily on the use of textiles and materials. The more intensive the contact of a product with the skin and the more sensitive the skin, the stricter anti-allergic requirements are respected.
If a garment receives the Oeko-tex quality mark, the garment contains no harmful substances. So better for your skin and health!
Is OEKO-TEX also organic and fair trade?
This quality mark therefore does not tell you anything about fair production or environmental impact. Although it is of course quite possible that the garment is also fair trade. And since stringent testing is carried out for harmful substances, it is also quite likely that the burden on the environment is low. If you really want to buy 'eco / organic / organic clothing' , just this quality mark is not enough. But it really is a step in the right direction.
What is the difference between organic / organic and OEKO-Tex certified?
Organic or organic clothing must always be certified. A well-known organization that does this is GOTS. But there are multiple certificates. This is therefore a different certification than OEKO-Tex. At OEKO-TEX, the focus is on where and how the clothing is produced. Organic also looks at the materials used. So you can compare this a bit with the stricter OEKO-Tex 1000 (label with 100 plus on it, see below).
It is difficult to see the forest with all the labels through the trees. But with an OEKO-Tex standard 100 label you are certainly on your way! If you want the entire route to be as sustainable as possible, go for OEKO-TEX 100 plus or organic clothing.
Standards OEKO-TEX
The STANDARD 100 from OEKO-TEX® takes into account: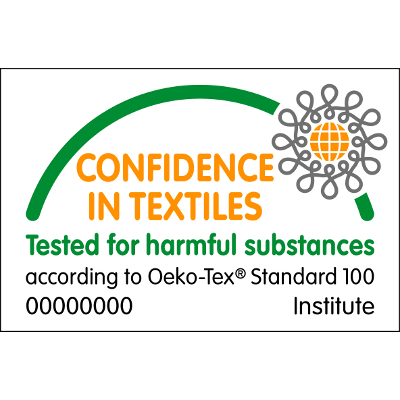 ✔ Important legal requirements such as; azo dyes, formaldehyde, penta chlorophenol, cadmium, nickel, etc. that are prohibited.
✔ Many chemicals that are harmful to health, even if they are not yet regulated.
✔ Requirements of the American Consumables Safety Improvement Laws (CPSIA) for lead.
✔ Many classes of substances also relate to the environment.
What does Oekotex 1000 (100 plus) mean?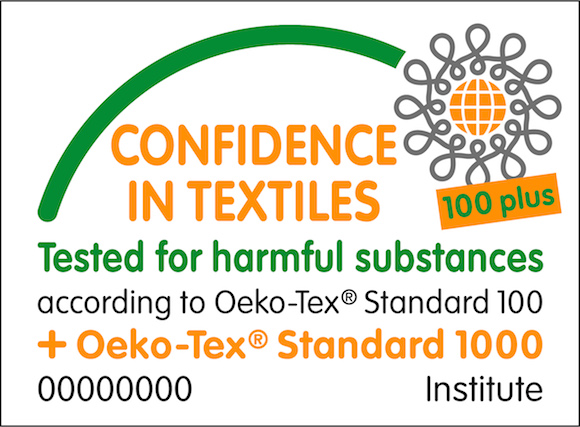 If the label looks slightly different and contains the text '100 plus' , then the clothing meets the requirements of Oeko-tex 1000 . This is a label with stricter requirements than the standard Oeko-tex 100 standard. You will encounter this label less often.
The Oeko-tex 100 Plus label means that the product is produced in an environmentally friendly and human-friendly manner. The people who made the product are therefore not exposed to harmful substances and work under good working conditions.
Which brands produce sustainably?
4Natural kids - organic
A Little Lovely Company textile - OEKO-TEX® Standard 100
Affenzahn - OEKO -TEX® Standard 100 + made from recycled PET bottles
Bemini items wear the textile - OEKO-TEX® Standard 100 , to respect the fine skin of your baby since birth!
CarlijnQ Organic Cotton - items carry the Global Organization Textile Standards (GOTS) certificate.
Infantino Consumer Product Safety Commission (CPSC)
Invented 4 Kids Bears the 'Confidence in Textiles' seal of approval
Kippins Organic Cotton items carry the Global Organization Textile Standard (GOTS) certificate
Jollein OEKO-TEX® Standard 100
Done By Deer OEKO-TEX® Standard 100 has European safety standard EN71 and CE marking
Label Label Compliant with the European directives on the safety of toys. This is indicated by the CE mark and has been tested by a leading inspection institute.
Lodger OEKO-TEX® Standard 100
Lulujo Free from BPA, PVC, Phthalates and other harmful substances.
Elodie Details - OEKO-TEX® Standard 100