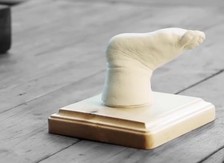 3d plaster prints of your baby's hand or foot
Order gypsum print packages online and quickly
Save the most precious memories of baby time with the beautiful plaster products from Baby Art & Kidzzcast. Make a beautiful 3D plaster print of your baby's hand or foot . Making the plaster cast is easy with the Baby Art & Kidzzcast packages. The lists of Baby Art & Kidzzcast are very beautiful and are beautiful in the hall or eg your living room.
Brands packages: Baby Art and Kidzzcast

You can choose from a package with only a gypsum print, but there are also magnets or combined packages with plaster print and photos available. There is also a nice big wooden memory box in which you can store all the first baby stuff such as hairs, pacifiers, teething, photos, plaster, first package etc.