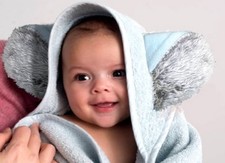 Looking for a nice baby shower gift? At Ik Ben Zo Mooi you will find a wide range of original baby shower gifts. Handy care items, toys, clothing and pacifiers, maternity gifts that parents really benefit from. With a maternity gift boy you surprise the brand new parents. Because we only think the best is good enough, we have selected the most original products. These are of a high quality and meet our strict requirements.
Baby shower gift in blue
After the Second World War, blue became an important color for boys. A baby shower gift in blue is therefore very popular. Not only do you opt for baby blue, with us you will find various shades of blue. Combined with a different color, you give a present that is really attuned to a boy. Here you can choose from different types of clothing including T-shirts, rompers or pants. We have also incorporated pacifiers, bibs or booties in the color blue or with the blue color. Incidentally, you are not obliged to give something blue. We have many more nice maternity gifts in our range, available in trendy or cheerful colors.
Modern clothing
Babies grow incredibly fast during the first year. This is the reason why many parents are happy with baby clothes. Make sure you guys buy clothes from size 62. For premature babies, you can safely purchase size 50 or 56. Do not buy too big clothes. It is not fun when parents have to wait more than a year until their child can handle the new clothes. At Ik Ben Zo Mooi you will find trendy cardigans or warm sweaters. Also a cool pair of jeans or a summer T-shirt is a nice baby shower gift.
Famous brands such as Dirkje, Tumble and Little Indians know how to combine quality with fashion. All clothing is skin-friendly and available in different sizes. Wash baby clothes inside out at 40 degrees. Take a look at our original baby hats or winter hats. That way, baby always stays warm.
A rattle as a baby's birth gift
The development of young children is fast. From looking around to walking, within a year parents see their baby grow fast. A rattle is suitable for babies from 2 to 6 months old. A cheerful color and rattling noises attract baby's attention. This baby boy gift is available as a police car, elephant or whale. You will also find many other versions of the rattle.
Is baby tired from playing, then it is time for a nap. Many babies sleep peacefully with a pacifier. The pacifiers in our range are hip and trendy. They comply with European safety standards EN1400 and are free of silicones. A pacifier from Ik Ben Zo Mooi is available for babies from 0 months or older than 3 months. Together with a cheerful colored pacifier chain you give an original baby shower gift.
Baby shower gift from birth
The new parents are often overwhelmed with maternity gifts. Yet every maternity gift is fun to receive and give. Choose an original baby shower gift that is not easily forgotten. Most parents like it when the gift is immediately usable. Think of a changing pad cover, baby socks or clothing. A blanket or handy diaper bag is also highly appreciated. Babies often receive enough cuddly toys. Therefore choose a Jollein cuddle cloth or soft rattle, very suitable for newborns.
The play mat or night light are also highly recommended. This allows the baby to relax and the parents get a rest. For baby to sleep well, we have a number of soft blankets in our range. These are available in beautiful and modern colors. From the age of 6 to 8 weeks many babies sleep in a sleeping bag or sleeping bag. This prevents the trapping baby feet from pushing the bedding away. A sleeping bag also increases safety in bed. Feel free to give a sleeping bag or sleeping bag as a gift.
We have classified our maternity gifts by age group. Here you have the choice from birth, 0 to 3 months or 3 to 6 months. Of course you can also choose to give a maternity gift suitable for babies from 6 months old. Besides a baby boy gift we also have fun gifts for baby's first birthday, Sinterklaas or Christmas in our assortment. Do not forget mom and dad at a birth. At Ik Ben Zo Mooi you will find the most beautiful maternity gift for everyone.