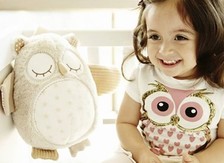 Sleeping sheep with soothing sounds
For a child, being born is a very big transition. They prefer to be with mom at the first time. Of course that is not always possible and your baby also sometimes has to sleep in his own bed. To help your child with this, there are various possibilities. A good solution is the Sleeping Sheep from Easidream or Cloud B. Both soft cuddly toys have the opportunity to make a heartbeat . So that your child will be quieter sooner. It is best to use the cuddly toys from birth so that your child is accustomed to it and sleep will become easier and easier. If your child wakes up at night, his boyfriend is always close by.


Smart sheep that automatically switches on and off
Cloud B's sheep is also extra smart. There is a Smart Sensor. If your baby is startled or moved, the sheep will detect this and will automatically show a reassuring white noise (like in mom's belly).


Scents of Mama or Dad
It is best to carry the toy for a while with you so that your scent is present. The smell of Mama or Papa reassures babies. This is also useful if, for example, you have to leave and your child is still very small. It can be a big support for your baby to have a little bit of Dad or Mama.