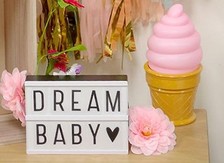 Lights for the nursery
Children like to have a
night lamp
when they go to sleep. It makes sleeping in the dark less scary. A large selection of lights is available for children. The most important point here is of course safety. If you opt for a night light from our collection, you do not have to think about it any more. All these lights have been extensively tested and approved. There is a wide choice of
night lights
for both
boys
and
girls
.
Cuddle night light or in the power socket?
In addition, it is important to know what you want to do with the light. Do you want one in the socket? One that is also suitable for babies? Can it be a cuddly lamp or is it purely meant only as decoration and lighting? Does the lamp need to project stars or only give light? Automatic shut down or stay on? The choice is huge. But by asking you the right questions you can quickly make a good selection.
Car night light or Pabobo?
Well-known brands are
Pabobo
and
Cloud B.
With these two, you can be sure that you are comfortable and will enjoy your purchase for years to come. The lights are available in the form of a turtle, ladybug but also in the form of a
red car
.