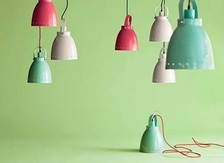 Hanging lamps, wall lamps and ceiling lamps for the children's room by Juul Design & Designed 4 Kids & Anna Lampe
Beautiful hanging lamps by Juul Design and Designed 4 Kids for the nursery and nursery now with a
10% discount.
A lamp is more than a light source. It is a piece of design and has to bring atmosphere to every nursery. The styles vary from modern and sleek to cool with stars or romantic with flowers and deer. Some lampshades are also available as a wall lamp. Nice to style the room with.
Quality lighting
The lampshades from the Ikbenzomooi.nl collection are of excellent quality. For example, only the best materials are used for the Juul Design lamps. In addition, the fabrics run straight and the lampshade is also beautiful when the light is not on. The right
lighting in the nursery
is therefore an important point where it is best for you to think about it. So that you can enjoy it for years. And the lighting is not a final piece but is an important starting point in the choice and style of the interior.