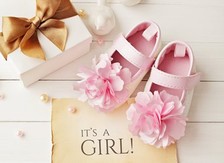 It's never easy to have a unique or original
birth gift
buying. Most maternity gifts are standard. Sometimes parents are less happy about or have the baby shower gift already received a number of times. A baby shower gift girl okay to be different from the pink color. Who here just wants something else, choose one of our beautiful maternity gifts. Pacifier to gay bathing suit or trendy bib, you'll find it all in I Am So Beautiful. A surprise for the new parents and their daughter, as happy do all along.
Sleep tight
Newborn babies sleep 17 to 20 hours per day. For baby girls, we therefore have some wonderful and warm gifts. The flamingo crib blanket or comfortable jumpsuit, babies always sleep well. Special is the dream sheep with heart and light. This allows baby or toddler very comfortable. For restless sleepers we have some great pacifiers in our range. Baby dreaming lovely way and the parents just enjoy each other thanks to a baby shower gift of I'm So Beautiful. Baby is awake, she wants to eat and play. , We have the best baby shower gift. Toys for babies from 0 months, the development benefits. Whatever you choose, a girl baby gift is both original and practical.
Maternity Gift girl for nursery
Most parents have fully equipped nursery. A baby gifts for baby's room is therefore not always convenient. Still, there are some items that are indispensable. Discuss this in advance with the parents, unless you know that they really need the baby shower gift. For baby care we have beautiful aankleedkussenhoezen. These are very good tune the design of the nursery. Also a night light or mobile baby's room to give the right atmosphere. A baby shower gift girl where parents and babies love to look at our range of only the highest quality. A practical stall gift girl is the set of hydrophilic diapers. These fabrics are used in the care of babies. They take a lot of moisture and help to dry the baby's delicate skin. The hydrophilic cloths are available in solid colors and cheerful pinks. The washcloths, towels or bed multi blankets original maternity gifts for newborn girls.
Surprise someone with a baby shower gift girl
A baby shower gift is always fun to give and receive. Birth is a big party, an original baby gift is the icing on the cake. A real girl baby shower gift is a skirt or pants, fashionable dress or cute rain boots. Presents that do not normally get quickly new parents look at I Am So Beautiful. The jewelry for girls are very popular. choose from one of the beautiful bracelets with lovely charms. Looking for a particular charm, you'll find it in our range. Appealing texts that parents will move. A girl baby shower gift that everyone gets into the heart, so you make a memorable impression. Besides the usual bracelets there are more special jewelry in our range. For example, choose the mother-daughter jewelery. Two matching bracelets that mother and daughter connect. The three generation jewelery is highly recommended. This baby shower gift girls has three bracelets for grandmother, mother and granddaughter. This shows you how special the birth of the young child.
Always the best quality
A baby shower gift girl picking begins with I'm So Beautiful. We have collected hundreds of items for you. From toys to clothing and nursing supplies to practical gifts, there is little that we have not. Quality is very important to both the parents and the newborn child. All our toys comply with the strictest quality standards. This includes baby clothes, which is skin friendly and machine washable. Thanks to our excellent service you are assured of a baby gift girl quality. It is possible to send the gift within 100 days back. We also offer specially for businesses maternity and gift service. do not you come to a choice, obtain our gift to. So choose the young parents choose their baby shower gift in the webshop I'm So Beautiful.